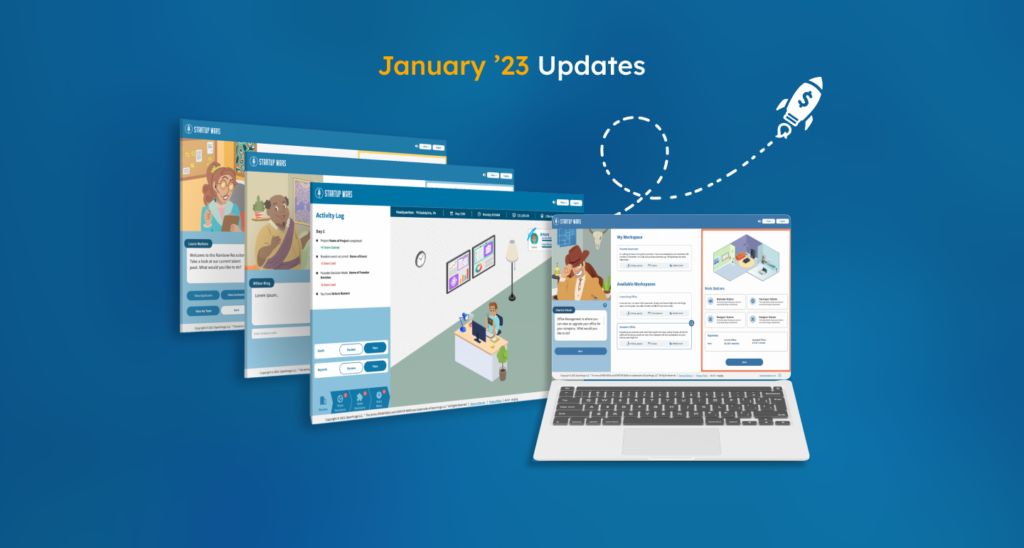 Hey everyone,
The spring term is finally here! Your friends at Startup Wars (that's us!) have been hard at work over the past eight weeks bringing some new updates to the platform. We have an updated timeline and new features that we'd like to announce, so without further ado, here they are!
Dating App Series – Released!
The "Dating Company" series now has two simulations available

Mobile App Series: Core Concepts Simulation

The Core Concepts is meant to be the first assignment; and in this one the student will have access to cities with a lower cost of living so that they can see how to run a tech startup and make financial decisions in cities with a cost of living index around 100 (give or take)
Cities: Columbus, Philadelphia, Chicago, Kansas City, Atlanta, Las Vegas

Mobile App Series: Advanced Concepts Simulation

The Advanced Concepts Simulation is meant to be the 2nd assignment; and in this one the student will have access to cities with a *higher* cost of living; so that they can see how rent and salaries scale. Additionally; the student will likely go bankrupt without taking one of the two fundraising options presented as a founder event.
Cities: Los Angeles, New York City, Columbus, Austin, Denver, Miami
Founder Events: This simulation includes a founder event in which the student must choose between selling equity and taking a high interest loan.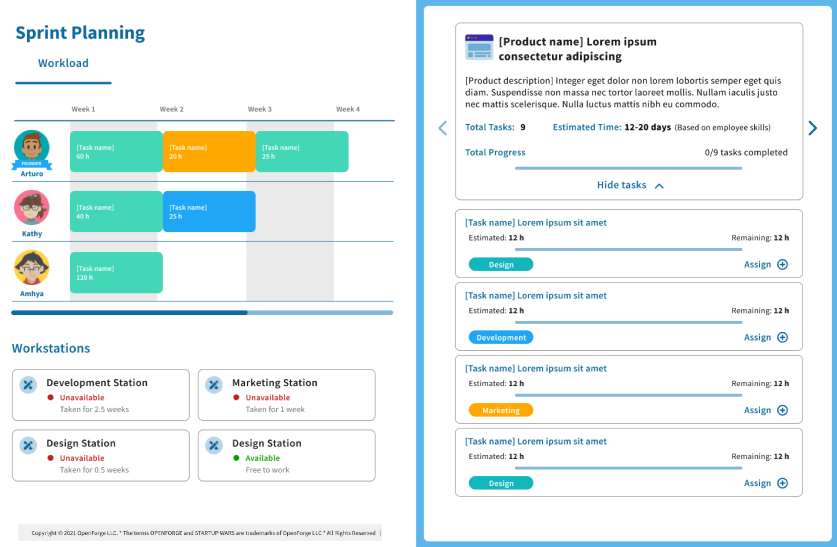 This also includes a newly designed "Sprint Planning" module. This learning module was remastered to allow students to plan their week in a better and more visual way, since we heard from our community that the sprint planning module was the most confusing. Hopefully this provides some more clarity into the ins and outs of the learning module!
Finally, the class selection page was redesigned and now students will get more valuable information about their assignments and goals to make the start of the game smoothly.
T-SHIRT SIMULATION – OFFICIAL RELEASE DATE ANNOUNCED – FEBRUARY 7th
We've been hard at work getting you early-access to the t-shirt simulation! Our new release date is going to be Tuesday, February 7th. We hoped to get this out a week early, but alas the realities of software development made it wiser to wait till February 7th and we wanted to wait an extra week for that extra layer of perfection 😉
Scheduled Downtime
Please note we will have scheduled downtime on Monday, February 6th in order to prepare for the new simulation series. These are large updates so they take some work to release and prepare; so please plan accordingly!
Final Thoughts (for this update at least)
We're excited to share these new updates with you and can't wait to hear your thoughts as you try out the newest simulation(s). We'll be at USASBE in Tallahassee the rest of this week so may be a little slow responding to emails on Monday/Tuesday, but if you haven't already please let us know if you need any help getting setup.
As a P.S., The program is open to all professors of business, entrepreneurship, art, music, and fashion. Also, remember that as part of our alliances with USASBE and CEO members from these organizations can receive early access to a customized simulation program for your college or university.
Thanks everyone,
Talk soon!
~Startup Wars Team